Crown Interactive Solutions transform businesses through change packages that ensure improved efficiency, productivity and overall business performance. We address people, processes and technology issues. The Crown Interactive consulting arm is dedicated to the provision of innovative services to our clients in all sectors. Our BPR consulting services deliver the redesign of fundamental business processes to achieve palpable improvements in productivity and efficiency, with emphasis on satisfying client needs.
Requirements Engineering
Crown Interactive has decades of experience in requirements engineering in business analysis. It is the go-to-partner for customers who want to produce quality deliverables to ensure that the end result of solutions developed or purchased are fit for purpose. A good understanding of the business and systems requirements in any business environment will lead to the successful creation of a solution that is fit for purpose and help forward-thinking organizations to realize important strategic goals.
We realise that every project embarked on is for one of the following reasons:
Generate cost savings
Increase productivity
Improve time to market
Enhance customer experience
Maximise profit
We help our clients by
Organizing workshops, brainstorms and interview sessions to capture business requirements

Working closely with management teams to ensure that business requirements are aligned with the tactical and strategic business objectives

Articulate both functional and non-functional requirements for stakeholder sign-of

Producing wireframes, prototypes and proof of concepts

Producing business cases to prove return on investment (ROI)
Business Process Re-engineering
Crown Interactive regularly helps customers to achieve the greatest potential by successfully re-engineering the existing business processes.
We facilitate the creation of a best
practice optimized process using our
expertise in collaboration with your
subject matter expert and our 7-step
process-driven approach consist of:
Define the "AS IS" processes
Identify the business rules
Identify Redundancies
Design the "TO BE" processes
Enforce constraints
Develop solutions
Deploy
We help our clients produce quality business analysis deliverables to ensure that the end result of the solution developed or purchased is fit for purpose by
GAP Analysis and process Re-engineering

Order management process Re-engineering

Sales order process Re-engineering across multiple channels

Designing optimal operational processes

Automating repetitive business processes and eliminate unnecessary processes and procedures

Architecting the enterprise through service oriented architecture (SOA).
Business Transformation
Crown Interactive is the expert in successfully delivering business transformations for companies based in various segments.

The Crown Interactive Transformation Framework (CITF) for business transformation allows us to consistently deliver real
business benefits to our clients.
CITF was founded on the structured application of the 3 key tenets of business transformation: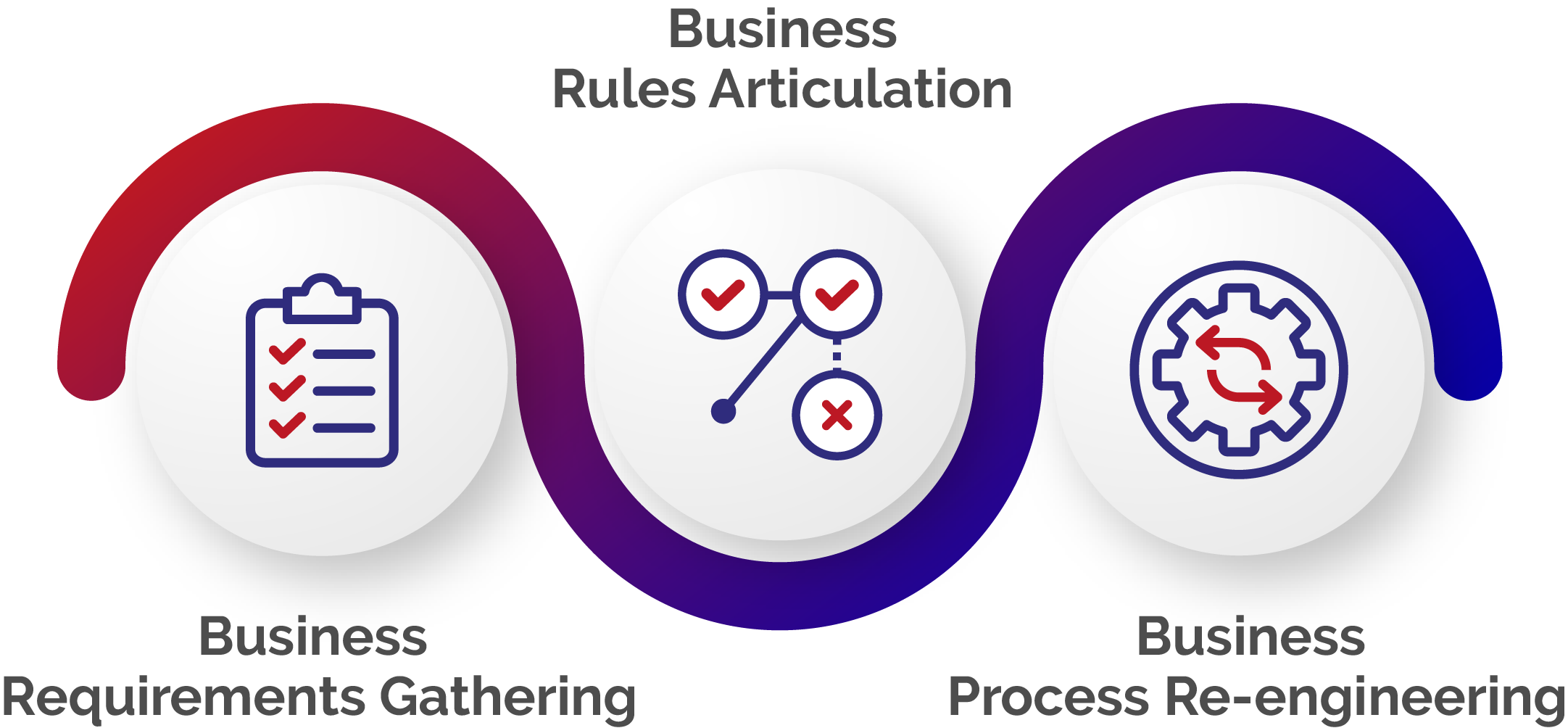 Crown Interactive designs and develops channel transformation
solutions that delivers:

Increased productivity

Shorter time to market

Enhanced customer experience

Cost savings

Maximised profit
Armed with these, our consultants design and build new processes that ensure improved business performance. Hence,
our consulting services deliver user requirement driven BPR solutions which:
• Maximise profit • Reduce costs • Reduce time to market • Increase efficiency • Facilitate business capacity
Here are some of the services which we provide:
Requirements Management

Feasibility Study

Project scoping

Methods and approach

Mentoring
Workshop Facilitation

Process and Modelling

Issue Risk Management

BPM and Workflow

Business Process Reengineering
If you want to learn about Business Analysis Consulting services that we provide,
please Contact Us to schedule a call with our consultants.
More services
Customer Lifecycle Management
Crown Interactive offers a holistic Customer Management System that involves a combination of Order Fulfillment and Revenue
Learn more
Revenue Cycle Management
We offer our clients an end-to-end service for managing revenue from Order to Cash
Learn more